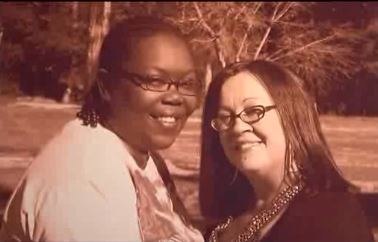 A gay Texarkana couple's request for a wedding announcement was denied by a local newspaper this week on the grounds that the paper only includes 'marriages that are recognized by the states in which it circulates.' KSLA 12 spoke to the couple about their experience and what they thought of the Texarkana Gazette's anti-gay policy:
"They refused us because we are a gay couple," says Michelle Cooks. "And if the Pentagon has recognized, you know, giving same sex couples benefits," continues her partner Patricia Wrightner, "At least, I think we could…" "…put our picture in the paper," finishes Cook. They often finish each other's sentences.
Wrightner and Cooks say they've been together for over a year and plan to travel to New Mexico later this month to marry.
When they went to the Texarkana Gazette to have an announcement printed in the paper, they say were turned away. They call it discrimination.
"We were discriminated against," Cook says. "There's no other reason not to have our picture in the paper."
A spokesperson for the Texarkana Gazette says it's a matter of policy.
"The Texarkana Gazette publishes wedding, engagement and anniversary announcements related to marriages or impending marriages that are recognized by states in which it circulates," says a statement from Editor Les Minor in response to an inquiry from KSLA News 12 on Wednesday. "This policy has been in place for several years. Neither Texas nor Arkansas allows same-sex marriages or recognizes same-sex marriages from other states. If those laws change, this newspaper will re-examine its policy."
Texas and Arkansas remain two of the 29 states that have no laws prohibiting discrimination on the basis of sexual orientation.
Watch a news report of the story, AFTER THE JUMP…