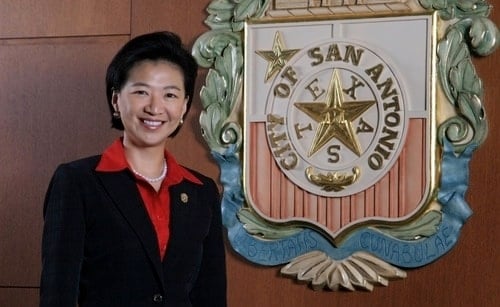 Elisa Chan, the San Antonio Councilwoman who made headlines back in August for her recorded anti-gay comments in which she called gays 'disgusting' and unfit to be parents, submitted her letter of resignation Monday in order to seek higher office. The San Antonio Express-News reports:
Her last day as District 9 councilwoman is Oct. 18, said her campaign spokesman, Craig Murphy. State law requires that she resign from council in order to file as a state candidate, and the filing period for candidates is Nov. 9-Dec. 9.
Last month, Chan, 47, said she would challenge incumbent tea party Republican Donna Campbell to represent Senate District 25.
In a letter to Mayor Julián Castro and council members, Chan said she was proud of San Antonio and "what we have accomplished." She reflected on her five years on council, saying:
"I have done my best to represent the conservative values of these fine people. The people of this district take an active role in deciding policy, giving their input, volunteering their time and listening to the views of their neighbors," she wrote.
 Gay neighbors excluded of course.