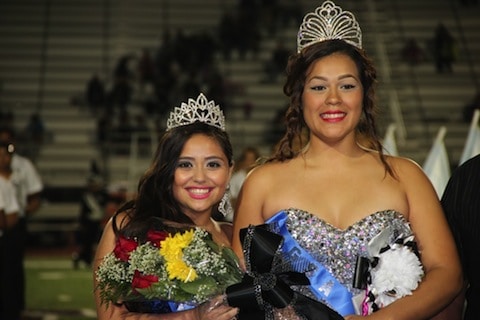 In an historic moment for C.C. Winn High School in San Antonio, TX the student body defied tradition and elected two girls to the Royal Court for homecoming this year. Though Jennifer Mijares and Eileen Hernandez are not a couple, they are allies and members of the school's Gay Straight Alliance, running on the platform of promoting equality among the student body.
They received immense support from the student body, claiming that every one negative response was met with ten positive. They even had the support of the staff, with Principal Jesus Diaz–Wever stating "that it is important for all persons to be respected and treated with dignity and the students at C.C. Winn High School certainly understand that all persons are equal."
The true test of support arguably came at halftime during the homecoming game on Friday, October 18th. When Jennifer Mijares and Eileen Hernandez were announced as homecoming queens to all in attendance, the 1,500 fans in the stands cheered.