Separate from Oregon United for Marriage's campaign to end Measure 36, a ban on gay marriage, two gay couples have filed a federal suit in an effort to get the ball rolling and see change come to the Beaver State more quickly. The couples involved include two women, Deanna Geiger and Jeanine Nelson (right), who would like to legally marry in the state, and two men, Robert Deuhmig and William Griesar, who would like their Canadian marriage recognized in their home state. The suit was filed in federal court because the attorneys involved, Lea Ann Easton and Lake Perriguey, believe that Measure 36 "violates the U.S. Constitution."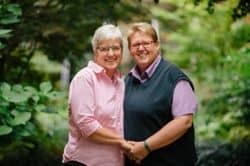 Willamette Week reports:
"We would like a federal district judge in Oregon to find that there is no rational, legitimate or compelling governmental interest that would allow Oregon's anti-gay constitutional amendment to stand," Perriguey says. "It will not withstand constitutional scrutiny."
Geiger, 54, and Nelson, 53, tell WW they have been together for more than 31 years, and were among the first in line to obtain marriage licenses when same-sex marriage was briefly legalized in Multnomah County. They've faced discrimination their whole relationship, which began when they met working at a camp together.
The suit does, for now, overshadow the popular vote expected on the state's ballot in 2014, an issue which has been addressed by the attorneys involved, as well as by Oregon United for Marriage.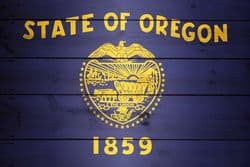 "I believe that securing equal access to marriage in Oregon through a popularity contest or through a federal decision will advance marriage equality nationwide," Perriguey says. "There's nothing guaranteeing a vote will come out in our favor, and there's no guarantee that a legal opinion will come out in our favor. But we're very optimistic."
Oregon United for Marriage says it's aware of the suit and staff has met with Perriguey and Easton about it.
"We share the same goal as the plaintiffs in this case, to make marriage legal for all loving and committed couples in Oregon," spokeswoman Amy Ruiz says. "No one should be denied the freedom to marry the person they love."
Two factions working to achieve an end goal of legally-recognized support for gay marriage: way to go Oregon! Several important public officials have been named as defendants on the suit as well, including Governor John Kitzhaber and Attorney General Ellen Rosenblum. With this caliber of support, we will cross our fingers for a successful suit, a successful campaign, and an end result of marriage equality. 
Couple photo courtesy of aliciajrosephotography.com.