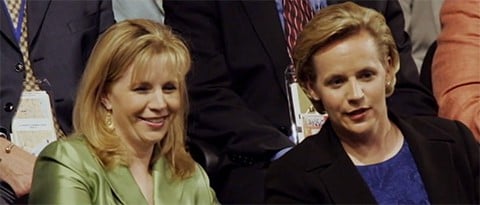 In an article titled, "The Race That Broke the Cheney Family," Politico's Jason Zengerle delves into the Cheney family feud that ensued after Liz Cheney, embroiled in a primary challenge for fellow Republican Mike Enzi's Wyoming senate seat, a race she was early on anticipated to win, publicly announced her opposition to same-sex marriage. Liz's sister, Mary, is openly gay and married with children and her father, former Vice President Dick Cheney, is also notably pro-marriage equality. Politico reports:
Unbeknownst even to some of her closest friends and advisers, [Liz's] newly announced opposition to gay marriage had caused a major rift in the famously close Cheney family, and she and Mary were no longer on speaking terms. Days after we talked it all became public, when, in a series of Facebook posts as devastating as they were surprising, Mary blasted her sister's stance against marriage equality. "Liz's position is to treat my family as second class citizens," Mary wrote. "This isn't like a disagreement over grazing fees or what to do about Iran." The public rebuke was the first communication between the sisters since August, and soon their parents, former Vice President Dick Cheney and his wife, Lynne, found themselves dragged into the imbroglio, issuing a statement defending Liz.
But Mary wasn't done speaking out. In a series of emails to me this week, as the news of her break with her sister spread, Mary wrote, "I'm not supporting Liz's candidacy." She later clarified: "By supporting, I mean not working, not contributing, and not voting for (I'm registered in Virginia not Wyoming)." The best she could say of the sister who was once her close friend and confidante was a final postscript: "I am not saying I hope she loses to Enzi."
As previously reported, one of Mary's most pointed posts on Facebook referenced Liz's comments on Fox News: "Liz – this isn't just an issue on which we disagree – you're just wrong – and on the wrong side of history." Though Mary and Liz were previously close, particularly during their father's tenure as Vice President, both sisters having worked on the 2000 and 2004 campaigns, the question of gay marriage has seemingly torn the fabric that once united the Cheney family: "'It's very un-Cheney-like for one arm of the family to do something the other part doesn't know about in the political sphere and cause any degree of heartburn,' says one former adviser to Dick Cheney."