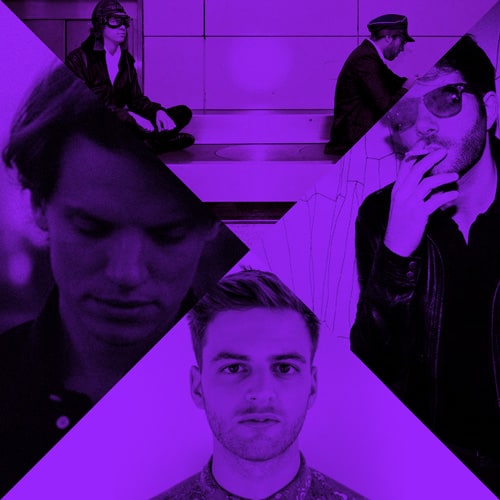 BY OCCUPY THE DISCO / TAD HAES
The OXD Mirror is a weekly music column brought to you by the boys of OCCUPY THE DISCO (OXD), a New York City based movement created by three music lovers, Ru Bhatt, Josh Appelbaum, and Tad Haes, who want to share their love for disco, house and dance music with the world.
Charm: 'With You'
Charm's 'With You' features soulful house vocalist Charmaine Baines, who has lent her voice to many other house hits in the past. The familiar-sounding track mixes some well done funk and disco beats to create a lighthearted, yet strong dance song, where Baines' powerful vocals really shine. 'With You' will be out next week on British label Rogue Cat Sounds and will feature a remix by New York producer Eric "Dunks" Duncan (a.k.a. Dr. Dunks).
Mickey: 'Walk Away'
Belgian producer Mickey became famous through a more accessible nu-disco sound, following the lead of other fellow producers like The Magician and Aeroplane. It is interesting to see his evolution though with the release of 'Walk Away,' on the more deep house-oriented label Exploited. The new work showcases Mickey in a more mature shape, combining complex layers and chopped female vocals into an uplifting house track.
Abstraxion feat. Astrid Engberg: 'Every Night I'm Lying'
Abstraxion is the moniker of 28 year old French musician and DJ Harold Boué, who last week released his debut album Break of Lights on New York label Have A Killer Time records. The LP includes 'Every Night I'm Lying,' a collaboration with singer Astrid Engberg and the result is a textural and melancholic deep house/pop song that starts slow and builds up beautifully over its six minutes. The album can be streamed for free in its entirety over HAKT's SoundCloud.
CONTINUED, AFTER THE JUMP…
Quadron: 'LFT (Urulu's Reinterpretation)'
I've been hooked on LA-based producer Urulu for the past year or so. His skills are evident through his remix for Jessie Ware's 'Sweet Talk' (download here) and several other releases for labels Needwant and Let's Play House. His latest freebie is a remix for disco-pop group Quadron's 'LFT,' which showcases a less dark, more pop side of his work. Download the track for free here.
Blancmange: 'Feel Me (Greg Wilson & Derek Kaye Remix)'
Electro-pop duo Blancmange hit the UK charts back in 1982 with their debut album Happy Families with a mix of electronic beats and British indie rock that brought tracks like 'Feel Me.' To celebrate the re-issue of the album, legendary disco DJ and producer Greg Wilson teamed up with Derek Kaye to translate the famous track for the current era. The outcome is a trip filled with hypnotic space synths and a funky bass that marries nicely with the original vocals. The re-work is a free download so make sure to get your copy.
Flight Facilities feat. Micky Green: 'Stand Still'
It was a great surprise to see a fast-paced, broken-beat track from Australian nu-disco/pop duo Flight Facilities come across my desk this week. 'Stand Still' features vocals of Parisian singer Micky Green, who fills the tracks with sweet whispered lyrics and a lot of whistling. The new work will be available in the US on November 26th and will include remixes by one of my personal favorite Mario Basanov, as well as Wave Racer and Com Truise.
TONIGHT: ATLAS DISCO CLUB
We're happy to announce we're back at Atlas Social Club for the third installment of Atlas Disco Club on a new night. We're now on for one Thursday every month, so instead of nursing your weekend hangovers on Sundays, we'll hopefully be jumpstarting them with the best in disco, nu-disco and house music. Tad, Josh and Ru are on the decks again and will be spinning (and turning, twisting and dancing as well) from 9pm-2am. Come and join us.
Follow us on Spotify!  Subscribe to our 'As Featured on Towleroad' Playlist to listen to tracks posted from past weeks.
For more information on OXD, check out our website and accompanying blog at www.occupythedisco.com, like us on Facebook, or follow us on Twitter: @OccupyTheDisco.