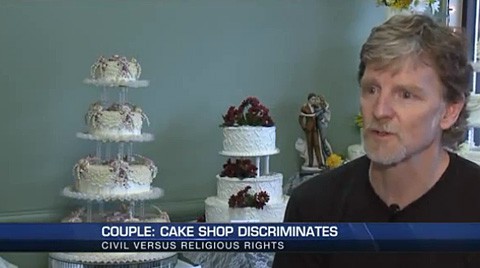 Yesterday we brought you up to speed on a court case out of Colorado that was essentially asking whether a cake-making shop can refuse service to same-sex couples because of the shop owner's religious beliefs. The answer, according to a Colorado judge, was a resounding "no."
The judge ruled that the Lakewood bakery in question "unlawfully discriminated against a gay couple by refusing to sell them a wedding cake."
David Mullins and Charlie Craig who in July 2012 went to Denver's Masterpiece Cake Shop, owned by Jack Phillips,  looking for a cake to celebrate the couple's upcoming nuptials. 
From the ACLU:
"Being denied service by Masterpiece Cakeshop was offensive and dehumanizing especially in the midst of arranging what should be a joyful family celebration," said Mullins. "No one should fear being turned away from a public business because of who they are. We are grateful to have the support of our community and our state, and we hope that today's decision will help ensure that no one else will experience this kind of discrimination again in Colorado."
"While we all agree that religious freedom is important, no one's religious beliefs make it acceptable to break the law by discriminating against prospective customers," said Amanda C. Goad, staff attorney with the ACLU Lesbian Gay Bisexual and Transgender Project. "No one is asking Masterpiece's owner to change his beliefs, but treating gay people differently because of who they are is discrimination plain and simple."
Phillips admitted he had turned away other same-sex couples as a matter of policy. The Colorado Civil Rights Division's [CCRD's] decision noted evidence in the record that Phillips had expressed willingness to take a cake order for the "marriage" of two dogs, but not for the commitment ceremony of two women, and that he would not make a cake for a same-sex couple's wedding celebration "just as he would not be willing to make a pedophile cake."
No word on whether Phillips will keep his pledge to close his cake shop if forced to bake a gay wedding cake.