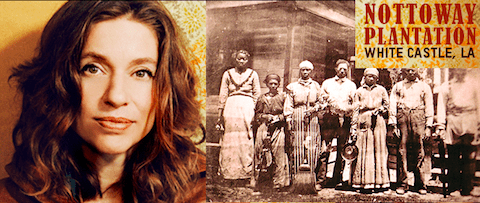 Bisexual singer Ani DiFranco had originally planned to host a songwriting workshop retreat for women, wanting a setting that would "become a participant in the event," so she decided on Nottaway Plantation. The problem is that Nottoway is not just a plantation, but a former slave plantation. What's more, as Callie Beusman at Jezebel points out, it is a particularly unapologetic plantation that does its best to whitewash its history of slave labor. Nottoway's website states:
Ever the astute businessman, Randolph [Nottoway] knew that in order to maintain a willing workforce, it was necessary to provide not only for his slaves' basic needs for housing, food and medicine, but to also offer additional compensation and rewards when their work was especially productive.
For those unclear on how the English language works, slaves are by definition the polar opposite of a "willing workforce."
When DiFranco received backlash for her choice of venue, she took to social media to "apologize", saying (sic throughout):
when i found out it was to be held at a resort on a former plantation, I thought to myself, "whoa", but i did not imagine or understand that the setting of a plantation would trigger such collective outrage or result in so much high velocity bitterness. 
How someone who claims to be a feminist and thus in tune to the plights heaped upon a discriminated class could not have predicted a toxic backlash to patronizing an institution that celebrates its own black mark on U.S. history is mind-boggling. DiFranco ultimately canceled her event.
Image via Our Legaci.