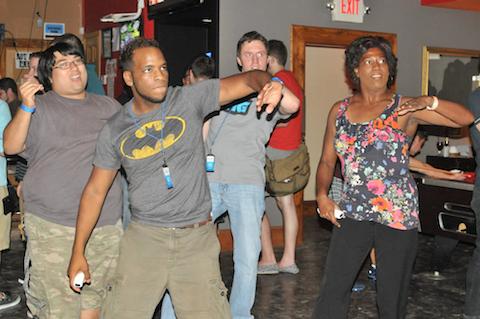 The term "gamer" becomes more and more obsolete each day as video games have transitioned from a niche hobby to a mainstream pastime. However stereotypes still persist, and the one of the socially maladjusted young male basement-dweller is a pernicious one to shake off; telling other people you play video games can be a kind of coming out, after a fashion, particularly in the gay community.
Eric Hulsey of Houston, TX decided to start up a group on Facebook called "Houston Gaymers" in 2009 to provide a way for GLBT gamers to connect and invited people to meet at Coffee Groundz. Over 40 people showed up for the very first meeting. The group, which has established its own dedicated webpage, has over 1,000 members and is the largest gay gaming group in the U.S.
As the group has grown, they have begun giving back to the community. In addition to creating a safe community space for GLBT folk, they have become involved in charity work, including hosting an annual food drive for local food banks and a holiday toy drive for the Texas Children's Hospital.
The Flagship Houston Gaymers meetups are on the fourth Saturday of every month from 8 p.m. until 2 a.m. at Thirteen: The Heights Bar, and semi-monthly meetups, called Handhelds Connect, are held the first Monday of every month from 7:30 p.m. until 11 p.m. at Les Givral's Kahve on Washington.