Indiana Governor Mike Pence is set to keynote a luncheon next week for the anti-gay Indiana Family Institute.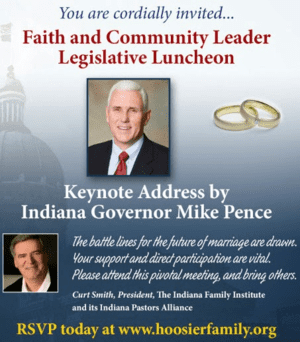 The event is being held to help drum up support for the constitutional ban on gay marriage that is currently stalled in the Indiana House Judiciary Committee.
Jeremy Hooper over at Good as You writes:
Regardless of how self-satisfying the lunch, those of us on the right side of history will of course enjoy the most delicious dessert. That is a given.
But it's still downright stomach-churning to know that there are duly elected lawmakers/executives out there who are so adamantly against us that they are wasting this legislative time and goodwill here at this late stage in the marriage equality game. Not that it was ever right to do so, mind you. But now, when so many married gay couples are out there leading by example and cutting through the past two decades' mean-spirited fear campaigns, this 2014 push seems downright vicious. Spiteful. Vengeful in a really animus-driven way.
Pence also signaled his support for a proposed constitutional ban on same-sex marriage in his State of the State Address, WBIW reports:
He didn't directly call for the amendment's passage, but did warn legislators against suggestions the amendment be reworded, saying legislators should "resolve this issue this year once and for all." Any change in the amendment would extend the debate another two years.
Pence urged "a debate worthy of our people, with civility and respect" for those on either side of the issue.