Today, a U.S. district judge in Austin will hold the first-ever hearing on federal lawsuits filed by same-sex couples challenging the constitutionality of Texas' marriage bans for gay couples. Lone Star Q reports: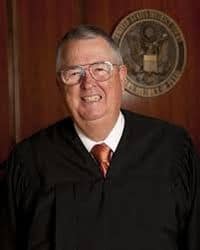 Judge Sam Sparks [right], of the Western District of Texas, will hold a status conference Thursday to consider pending motions in the lawsuits. Chief among those motions is a request from Republican Attorney General Greg Abbott, who's defending the state's marriage bans, to consolidate the three lawsuits into one. Plaintiffs in the cases oppose Abbott's consolidation request, but an attorney for one acknowledged it's likely to be granted.
"All three of the cases deal with the same basic constitutional issues," said Dallas attorney Jason P. Steed, who represents two same-sex couples from Austin who filed their lawsuit in October. "Rather than deal with things in three separate cases, it's pretty likely the court will want to hear it all in just one case. The question will be, which case does the court decide to consolidate it to?"
Attorneys representing the various same-sex couples differ on what they see as the best course of action moving forward for this legal fight. While Steeds and his clients are seeking class-action status for all same-sex couples in the state wanting to marry, saying that this would ensure favorable rulings apply to all couples, not just parties in lawsuits, others disagree.
Daniel McNeel Lane Jr., who represents two same-sex couples who filed their federal marriage lawsuit in San Antonio on Oct. 28, said he disagrees with the class-action strategy, because in the event of an unfavorable ruling, it would apply to all couples and prevent others from bringing their own cases.
Update to follow…