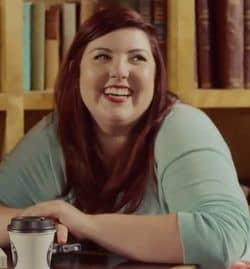 Mary Lambert, the openly gay crooner who sings the beautiful chorus for "Same Love," the Macklemore and Ryan Lewis-helmed marriage equality anthem, has had quite a successful year. The tune is nominated for the song of the year award at Sunday's Grammy Awards, and her involvement on the track has helped push her solo career into overdrive. Funnily enough, though, she says that she very nearly missed out on the amazing opportunity.
HuffPost reports:
Macklemore & Ryan Lewis had written and produced a song called "Same Love," but they needed a special hook to finalize the emotional track. Like the rap duo, Lambert is from Seattle, though she had never met them before.
"I was sort of a last resort," said Lambert. "It was a match made in heaven."
Lambert was given "about two or three hours" to write the song's chorus and then record it the same night in front of the breakthrough newcomers, who were instantly impressed by the soft singer.
"They loved it. It was like this beautiful minute of silence after I sung the chorus," she recalled.
Lambert's deeply felt connection to the track, which was shockingly successful given the content, has pushed her deeper into her own music career as well.
She said it also has encouraged her to be honest in her own music. She released an EP, "Welcome to the Age of My Body," in December and it features a spinoff of "Same Love" called "She Keeps Me Warm" — a refrain from the original track.
Lambert signed to Capitol Records and will release a full-length album this year. She plans to sing about topics from female empowerment, fat shaming and domestic violence.
"I think people are figuring out there's no formula anymore. The things that used to work for record companies don't necessarily work," she said.
Check out Lambert's EP on iTunes, and tune in to the Grammy Awards this Sunday at 8pm on CBS to see if "Same Love" steals the show.