A billboard in the Mexican state of Chiapas responding to looser restrictions on same-sex marriage — and other important social issues like drug use and abortion — has made headlines this month for its intense, anti-gay message.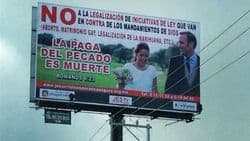 The local mayor of Chilo, Leonardo Rafael Aguilar Guiraro, has attached his logo to the billboard, which takes a biblical approach to stopping the spread of certain behaviors.
Gay Star News reports:
'No to the legalization of initiatives that are contrary to the commandments of God – abortion, gay marriage, legalization of marijuana etc,' the billboard reads.
'The wages of sin are death,' quoting Romans 6:23…
Discrimination on the grounds of sexual orientation is banned in Mexico and there have been calls for the billboard to be removed.
The legislation covers 'offending, ridiculing or promoting violence through messages and images displayed in communications media,' and 'incitement to hatred, violence, rejection, ridicule, defamation, slander, persecution or exclusion.'
Let's hope that Mexico's anti-discrimination law takes care of this signage soon.