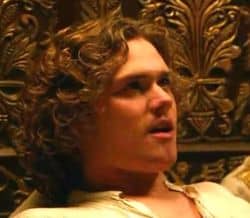 After the trailer dropped for season four of HBO's Game of Thrones last week, fans of the critically-acclaimed fantasy saga were chomping at the bit to see what's in store. Those who were hoping for some hot man-on-man action, however, may need to cool off and quell their expectations slightly. According to actor Finn Jones (right), who plays Ser Loras Tyrell, there's just too little gay sex in the works.
Access Hollywood reports (caution: spoilers from past seasons ahead):
"It's been a fantastic season. Everyone's worked really hard and the show is just going from strength to strength to strength to strength," Finn told Access Hollywood at HBO's post-Golden Globes soiree at the Beverly Hilton Hotel on Sunday.
"It feels like it's really finding it's ground now and it's about to explode so I'm really excited," he added.
But, don't expect Finn's character, Ser Loras Tyrell, to have much in the way of romance this season. After he lost his big love – Renly Baratheon – in Season 2, and had a little dalliance last season with squire Olyvar – his bedroom romps have been cooled off somewhat in Season 4.
"There's not enough hot gay sex for Loras this season. I'm afraid there's just not enough," Finn said.
Finn's comments don't mean, however, that Loras is loveless in Season 4.
"I have like a slight flirtation with one of the new characters, but I can't say anything else," he said.
Will you be watching the season four premiere of Game of Thrones in April?