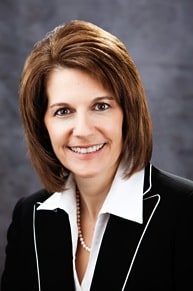 Nevada Attorney General Catherine Cortez Masto (D) has an onslaught of backlash headed her way after a brief she filed on Tuesday linked same-sex marriage to bigamy and incest. The brief, responding to the Lambda Legal-filed case Sevick v. Sandoval which is challenging Nevada's 2002 ban on gay marriage, stands in vehement opposition to repealing the ban, reportedly "on the basis that it reflects the will of the people." Masto believes that the Ninth Circuit Court of Appeals need not apply heightened scrutiny to this case as "There exists neither fundamental right, nor suspect or quasi- suspect class, justifying a different standard of review." A controversial perspective, to be sure, but not nearly as much as the direct links she draws among gay marriage, incest, and bigamy.
The Washington Blade reports:
But in a section titled "Marriage Defined" explaining "what marriage is" and "what marriage is not," Masto reminds the court that in addition to not being for same-sex couples under Nevada law, marriage is also not for those engaging in bigamy or incest.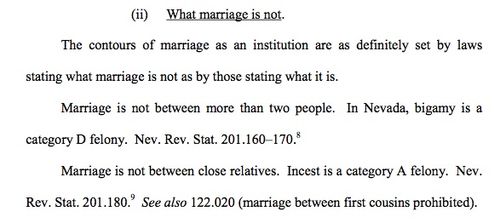 …
Evan Wolfson, president of Freedom to Marry, took Masto to task for making an implicit comparison between same-sex marriage and bigamy or incest while saying she makes no solid argument against allowing gay nuptials in Nevada.
"Marriage is not 'defined' by who is denied it, and nothing in the brief explains why loving and committed couples of the same sex should be denied the legal commitment and bundle of obligations and protections that are available to different-sex couples," Wolfson said.
Masto differs from other Democratic state attorney generals who have recently decided not to defend gay marriage bans based on their lack of constitutional validity. For their part, Lambda Legal will have words with Masto soon.
Jon Davidson, Lambda's legal director, said "of course, we find any such comparison objectionable" between same-sex marriage and bigamy or incest. The organization is slated to file its formal response to the attorney general's brief next month.
GetEQUAL Nevada lead organizer Derek Washington, a friend of Attorney General Masto's, issued the following statement in response to her brief:
"I count Attorney General Cortez Masto as one of my very first mentors, having met her at the 2008 Democratic National Convention in Denver. I am deeply disappointed that she would take the positions she has in her vigorous defense of a law that I find discriminatory and against the ideals of equality this great country was founded on. For the Attorney General to equate marriage equality with bigamy and incest is not only jaw dropping, but it is also a personal affront from someone I thought understood that we, LGBTQ Nevadans, are just the same as all other Nevadans. We work hard, send our children to school and contribute to the health of our communities. To be lumped in with bigamists and sexual criminals by a friend is, to say the very least, heartbreaking."