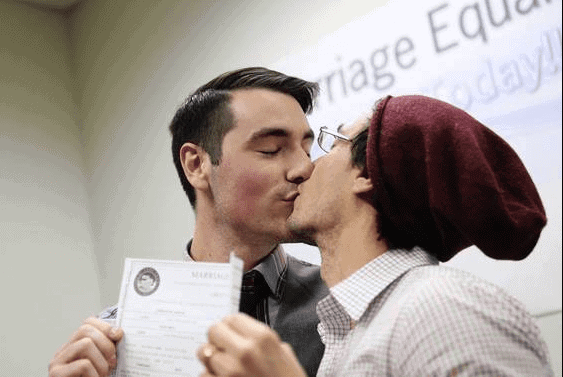 The first same-sex couples was married in Cook County, Illinois yesterday, just hours after a federal judge ruled that gay couples could start marrying immediately. 
WLS-TV explains how the very first gay couple to marry made their decision:
Charlie Gurion, 25, saw that U.S. District Judge Sharon Johnson Coleman ruled Friday morning that there was no reason for same-sex couples to wait for marriage until June, which is when an Illinois law goes into effect making gay marriage legal. So he called his partner, David Wilk, 30, at work, and talked him into heading the courthouse. The two have been together for three and half years.
The Chicago Tribune reports:
U.S. District Judge Sharon Johnson Coleman's ruling was announced late Friday morning, drawing 46 gay couples to the lower level of the Daley Center to get a marriage license. Thanks to a waiver from a judge, Cook County Clerk David Orr even married a couple Friday, giving them red roses to celebrate.

Orr said the office looks forward to long lines but he was not sure how many to expect. Extra staff will be brought in to cover the longer hours today.

Marriage licenses take effect the next calender day and are valid for 60 days.  "Don't rush to get your license if you have a summer wedding planned because you don't want the license to expire before your big day," Orr cautioned.

The $60 license fee will be waived for any couple who already has an Illinois civil union license. Couples who wish to convert their prior civil union date to a marriage will have to wait until June 1 because it was not addressed in Coleman's order, Orr said.
Only the downtown Chicago office issued same-sex marriage licenses yesterday. According to the Tribune, "all offices will begin issuing licenses on Monday."