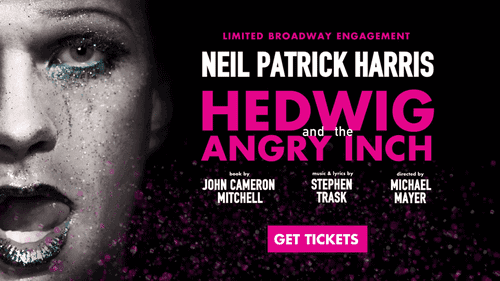 Producers of Hedwig and the Angry Inch have announced a charitable partnership with LGBT youth organization Hetrick-Martin Institute as part of the Broadway show's run.

The musical will donate a portion from each ticket sale to Hetrick-Martin Institute, home of the Harvey Milk High School, a New York City public transfer school where at-risk youth can learn without fear of physical or emotional attacks. According to a press release, the partnership "will also utilize the resources of the production, including representatives from the show meeting with young people in an educational and mentoring capacity, and additional fundraising support."
"Hetrick-Martin Institute has always been a part of Hedwig's DNA and I'm thrilled HMI is able to join Hedwig on her journey to Broadway," writes producer David Binder in a statement. "Our cast, creative team, and my fellow producers have been overwhelming in their support of this initiative benefiting this inspiring and incredibly important organization."
Hetrick-Martin Institute CEO Thomas Krever adds, "HMI is deeply grateful to Neil Patrick Harris and the entire Hedwig and the Angry Inch production team for partnering with HMI to help us provide life-changing programs to LGBTQ youth. Hedwig's message of being proud of who you are resonates deeply with the thousands of youth we serve each year."
Hedwig and the Angry Inch, starring Neil Patrick Harris, begins preview performances this Saturday and opens April 22 at the Belasco Theatre. To find out more information about the show's partnership with HMI and to purchase tickets, click HERE.