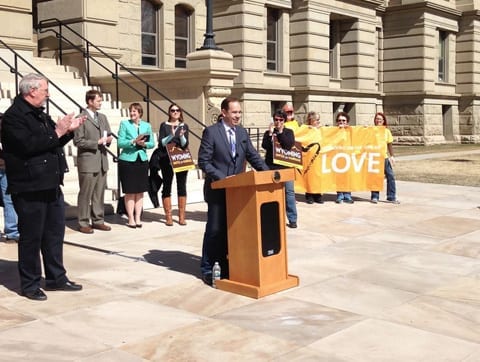 A new statewide educational campaign to help build support for marriage equality kicked off on the steps of the Capitol building in Cheyenne, Wyoming on Monday.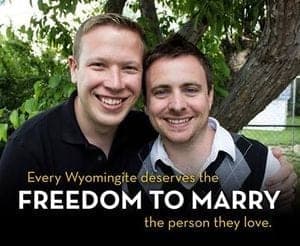 The initiative, Wyoming Unites for Marriage, is launching in conjunction with the recent suit filed by four gay couples who are challenging the state's ban on same-sex marriage in court. Casper Star-Tribune reports:
Jeran Artery (pictured, above), chairman of Wyoming Equality, said advocates will hold rallies and discussions throughout the state to build support for the lawsuit and their goal — to make civil unions between same-sex couples legal in the state.
"As that case makes it way through the courts, there is nothing more important that we can do than have meaningful conversations about why marriage matters to all of Wyoming's families," Artery told supporters Monday.
"At the end of the day, marriage for same-sex couples is about treating others like we would like to be treated," he added. "In Wyoming right now, loving same-sex couples and their families are being denied the protections that only marriage can provide."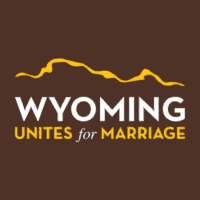 Rep. Dan Zwonitzer, a Cheyenne Republican who spoke during the rally, says the shifting attitudes among many of his colleagues in the GOP, especially its younger members, means gay marriage will likely be a non-issue within the next 10 years.
"Every year, the Republican Party's support increases for same-sex marriage, and in the next decade I don't think it will be an issue anymore," he said. "It's a challenge for us in Wyoming to work with the party and work with everyone to get behind the issue."
Hopefully the Equality State will be able to live up to its namesake sooner, rather than later…