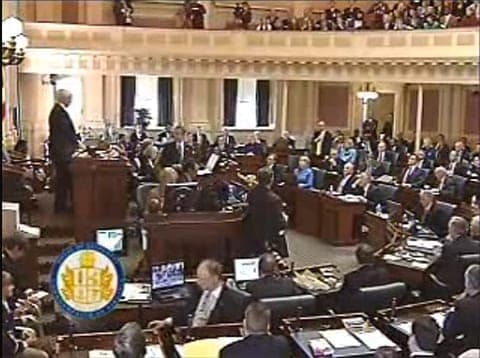 Virginia's House of Delegates on Thursday unanimously passed in a 100 to 0 vote a bill that would eliminate the state's unconstitutional ban on sodomy that criminalized oral and anal sex since 1950, ThinkProgress reports. Previously approved by the Virginia state senate in a similar unanimous vote, the bill now awaits Democratic Governor Terry McAuliffe's signature or veto. 
The statute in question, Virginia's Crimes Against Nature law, technically should have been made defunct after the Supreme Court ruling in Lawrence v. Texas which found that the state could not infringe on the rights of adult individuals to have consensual sex. However, many Republican legislators in Virginia, including former gubernatorial candidate Ken Cuccinelli, fought to keep it in place. The sodomy ban was battered in the courts and the Supreme Court made sure to keep clear of the case. Court rulings have also caused additional complications for those backing the law:
Last year, the federal courts overturned the conviction of a man charged, under Virginia's Crimes Against Nature law, of soliciting a 17-year-old female for oral sex — a felony under the statute. Because that law — first enacted in 1950 to prohibit oral and anal sex, as well as bestiality — had not been updated, the court ruled it was unenforceable, putting the convictions of other sexual offenders and child predators at risk.
In response, Sen. Thomas A. Garrett (R) filed a bill in December that would have eliminated the ban on adult consensual sodomy, but would have made oral sex between 17-year-olds a felony, even if they were legally married. After ThinkProgress reported on this possibly unintended consequence, Garrett and the Senate Courts of Justice Committee agreed on a substitute version that generally treats all sex equally.
More than a decade after the Lawrence decision, several other states still have sodomy bans on the books, including Alabama, Florida, Idaho, Kansas, Louisiana, Michigan, Mississippi, North Carolina, Oklahoma, South Carolina, Texas, and Utah.