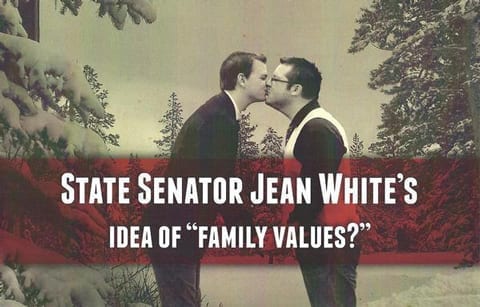 In September 2012, husbands Brian Edwards and Thomas Privitere (pictured above) sued the Public Advocate of the United States — a Virginia-based conservative political group — for using their personal engagement photo in an anti-gay mailer targeting two 2012 Colorado "Republican state legislative candidates who lost their primary races."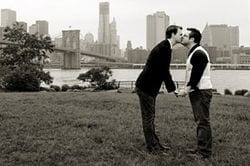 U.S. District Court Judge Wiley Daniel ruled against Edwards' claim that the postcard was an "unlawful appropriation of ['his] name and likeness," and said that the political group had the legal right to non-commercially use the couple's photo in addressing a matter of legitimate public concern (same-sex marriage) under the First Amendment.
However, the Judge Daniel also ruled that "the gay New Jersey couple and their photographer — have a plausible copyright infringement claim'… [since] Neither they nor their photographer, Kristina Hill, gave permission for their engagement photograph to be used."
The mailer's creators deleted the photo's original background of the Manhattan skyline and Brooklyn Bridge and added the Colorado landscape to give the mailer local appeal. The Southern Poverty Law Center (who filed the suit on the gay couple's behalf) lists the Public Advocate of the United States as an active anti-LGBT hate group.