At a church conference in Salt Lake City on Saturday, a top Mormon official reiterated the church's longstanding opposition to same-sex marriage, the AP reports: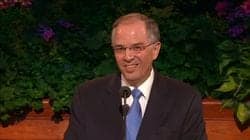 The Church of Jesus Christ of Latter-day Saints' stance on homosexuality has softened in recent years, but this marks the second consecutive conference in which leaders took time to emphasize the faith's insistence that marriage should be limited to unions between a man and a woman, as God created.
"While many governments and well-meaning individuals have redefined marriage, the Lord has not," said Neil L. Andersen of the Quorum of the Twelve. "He designated the purpose of marriage to go far beyond the personal satisfaction and fulfillment of adults, to more importantly, advancing the ideal setting for children to be born, reared and nurtured." […]
Andersen encouraged church members not to buckle under the pressure of a growing movement on social media and elsewhere by advocates who want to make gay marriage legal. He offered the example of a woman who articulated her support for "traditional marriage" on Facebook and refused to take it down despite backlash.
Anderson also praised those who "struggle with same-sex attraction," but stay true to the commandments of God and not succumb to the sin of homosexuality.