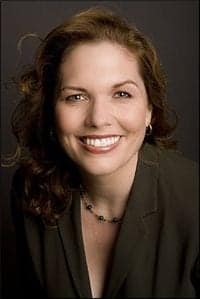 "Do it," shot back Griffin's public relations partner, Kristina Schake (right). Griffin tried to explain how having a conservative attorney would "move public opinion." But the meeting, wrote Becker, "abruptly ended on that angry note." And Michele Reiner pronounced the meeting a "disaster."
Davidson says he doesn't remember the meeting being the angry drama Becker paints. Neither does his Lambda colleague Pizer.
"We did not treat those present at the meeting who were affiliated with AFER as 'upstarts,'" nor did it "end abruptly" or on any "angry note," said Davidson. And the idea that Davidson would throw a dossier down on the table and make threats, he said, is "inaccurate."
"That is not who I am."
Davidson recalled that, "after the meeting was concluded, the Reiners, Chad Griffin, Ted Boutrous, and Bruce Cohen walked with us outside as we headed back to our cars and we all shook hands and said pleasant goodbyes."
"We left the meeting with an agreement to talk further," said Davidson, "and there were additional conversations between us and some of those affiliated with AFER who were present at the meeting between then and the filing of the suit."
Pizer characterized the meeting as "very cordial and friendly." 
"They seemed disappointed that we weren't enthusiastic about their plan," said Pizer. "Chad did, too. And maybe a little frustrated that we expressed skepticism about the Supreme Court's likely willingness in the very near term to strike down 30 newly enacted state constitutional marriage amendments with a gay version of Loving v. Virginia.  But none of the interactions seemed angry or hostile."
But the difference in strategy was significant. Lambda, the ACLU, and seven other major LGBT legal and political organizations released an "open letter" on May 27 –five days after the AFER-Olson lawsuit was filed— warning against "premature lawsuits," propelling the behind-the-scenes conflict –however large or small– into public view.
"There is a very significant chance that if we go to the Supreme Court and lose," said the open letter, "the Court will say that discrimination against LGBT people is fairly easy to justify, and that same-sex couples can be denied the right to marry based on mistaken, antigay assertions that LGBT people make bad parents. Indeed, we have recently lost marriage cases on that very basis in the state high courts of New York, Maryland, and Washington, and in intermediate appellate courts in Arizona and Indiana. Such a ruling from the U.S. Supreme Court could hurt us badly in cases about parenting, schools, and government jobs."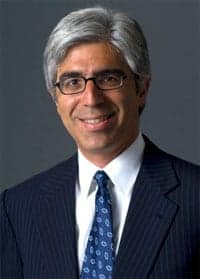 In an interview last week, Boutrous (right) said he thinks the difference in strategies, even with the friction that went along with it, was a good thing. One strategy called for pushing hard for a court ruling to secure legal equality as quickly as possible; the other focused on building a "lasting, heartfelt understanding and recognition of the need for LGBT equality that is real and that endures in people's hearts."
"You need both," said Boutrous. After the AFER-Olson team filed the lawsuit, he said, the LGBT groups were "extraordinarily helpful" and still are.
"The combined strategies," he said, "ended up giving the overall [marriage equality] effort the best of all worlds."
The Supreme Court struck down the Defense of Marriage Act (DOMA) in U.S. v. Windsor the same day that it agreed that Proposition 8 supporters lacked proper standing to appeal a federal district court ruling that found the ban unconstitutional. That was June 2013. Today, notes Boutrous, Lambda, the ACLU, Gay & Lesbian Advocates & Defenders, and the National Center for Lesbian Rights, and even Paul Smith (working with Lambda) are all working with the AFER-Olson team on the Fourth Circuit case that argued Tuesday in Virginia.
Davidson said he believes the LGBT groups' assessment was correct in 2009 –that it was "too early" to launch a marriage equality lawsuit toward the Supreme Court and "that the Supreme Court would be more receptive to a challenge to DOMA first."
"But, as I've said before, I may not have appreciated at the time how, if AFER had not launched a suit challenging Prop. 8, someone else who had less able counsel, less funding, and less public relations expertise than they did likely would have filed a challenge, and very well might not have succeeded in overturning Prop. 8," said Davidson. "In addition, the public education surrounding the case was brilliant, and having Ted Olson leading the case was instrumental in helping pave the way for more conservatives to support marriage equality.  To me, what's most important to recognize, however, is that we all had the same long-term aims."
© 2014 Keen News Service. All rights reserved.