The Sacred Heart Cathedral Prep school in San Francisco has apologized following outcry over the school's decision to remove the yearbook photo of senior student Jessica Urbina because she was wearing a tuxedo rather than the mandatory dress for female students.
The Advocate reports: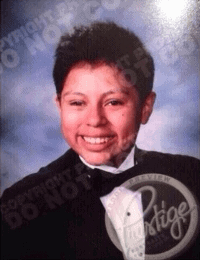 The removal of the photo was widely criticized as the news spread. Urbina's fellow students united to support her by creating a social media campaign and participating in a demonstration Friday, which saw hundreds of students wearing ties to school protesting the school's decision. "I've cried multiple times, overwhelmed with all this support," Urbina told the Chronicle.
The backlash prompted the school to issue an official apology Monday from president John Scudder Jr. and principal Gary Cannon, who applauded the students for their support of Urbina. "Given the nature of this specific case," the administrators said, "we believe that decision, while conforming with our policy, was wrong."
School officials say the dress code will soon be updated to no longer require female students to wear dresses in an effort to be more sensitive every student's gender identity, but they realize they "still have much growth to achieve."
The administrators added, "As a school, we must better learn how to support our students who are navigating issues of gender identity."