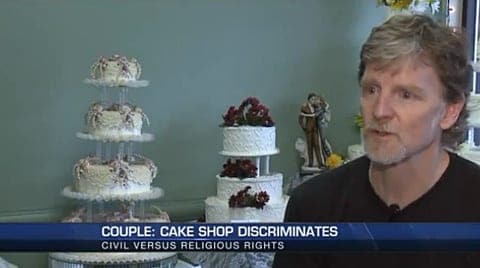 The Colorado Civil Rights Commission has rejected a Denver-area bakery's appeal of an judge's earlier ruling that bakery owner Jack Phillips "unlawfully discriminated against a gay couple by refusing to sell them a wedding cake" last July.
The commission affirmed the prior ruling that found Phillips in violation of the Colorado Anti-Discrimination Act. The commission also ordered a change of policy, staff training, and quarterly reporting to confirm that the bakery is not turning away customers due to sexual orientation.
Said Paula Greisen of King and Griessen LLP, which represents the gay couple as cooperating counsel with the ACLU of Colorado: "Everyone who shops in our stores and conducts business in our state should be treated with equality and dignity. That's what this ruling was about today."
Phillips has pledged to close his cake shop if forced to bake a gay wedding cake.