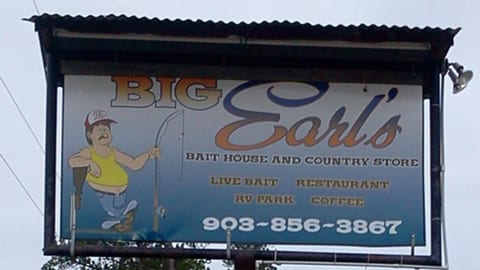 Remember Big Earl's Bait House And Country Store, that Pittsburgh, Texas restaurant that told that gay couple "We don't serve fags here"? Yeah, well… thanks to Yelp reviewers it's now becoming known as the hottest gay bar in the southwest.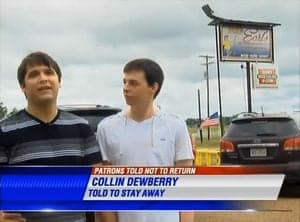 Here's some of the reviews:
"This place is great because you can really just let your freak flag fly here."
"their night crawlers are HUGE and are always gobbled up around owner's daughter's favorite glory hole."
"Food comes with a free side of bigotry that we did NOT order. Worst service. Lots of hot gay couples kissing was the only good part."
"The sign said BIG Earl's so when Earl stopped by my table and invited me into the kitchen to sample his Rainbow Trout, I had high hopes. But when he showed me his teensy-weensy little trout . . . well, I guess it's like when they call a fat guy "Slim"? Maybe that's a Texas thing.
On the positive side, it says "Bait House" but the place was more like a Bath House with all the horny Texas cowboys flirting and slapping each other's behinds. Very gay-friendly atmosphere.
The coleslaw had bigotry all over it and the club sandwich had way too much white privilege.
Interestingly enough, they serve shrimp. Delicious, sinful shrimp. Which is prohibited in the bible in the same fashion as homosexuality. So if you want a big plate of bigotry with a side of hypocrisy, and unlimited refills of ignorance, this is the place for you!
The sign says that men should act like men and women should be ladies, so I came in expecting drag queen divas, butch babes, and tantalizing two-spirits. Instead there was only bait (not the kind I was hoping for) and a disturbing lack of all things Madonna and Gaga."
Texas activists are also reportedly planning a protest at the restaurant sometime soon:
"If there's any problems, they will be taken care of appropriately," says Christina Cheney, who is Big Earl's daughter and the waitress who made the homophobic remark. "We are aware that they are attempting to come out here. We're ready for them; we have informed the Sheriff's department and the state."