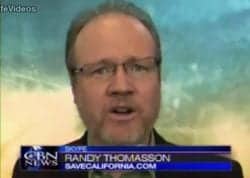 Despite sounding like a setup for that terrible joke of wedding rings being the world's smallest handcuffs, leader of hate group Save California Randy Thomasson took to right-wing talk show host Janet Mefferd's show to compare marriage equality to slavery. Said Thomasson:
It's tyranny, it's intolerance, it's attack, it's a form of slavery even, that you cannot even have freedom, the freedom of speech, the freedom of religion, and this is leading away from mere opposition to oppression with coming persecution.
As always, every word of this is a lie. No one is denying his general freedom, his freedom of speech (which is why he was allowed to speak on the radio show without government persecution), or his freedom of religion (which is why he is still allowed to be a Christian). Additionally, saying one cannot oppress others is not itself oppression.