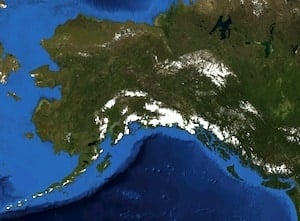 Gay marriage is not legal in the state of Alaska, but on Friday the state's Supreme Court made a major decision the state's fight for equality.
The court ruled the case of Harris v. Millennium Hotel, and their verdict ensures same-sex couples in Alaska are now offered the same survivor benefits as their straight counterparts. The ruling extends the scope of the state's workers' compensation law, which requires employers to provide benefits to the spouse of a person who dies from a work-related injury.
Now everyone will have their day in court.
The case of Harris v. Millennium Hotel was filed by Lambda Legal, on behalf of Deborah Harris, who was seeking survivor benefits after her partner Kerry Fadely was killed by a disgruntled former employee at her place of employment, Anchorage's Millennium Hotel.
(h/t Lambda Legal)