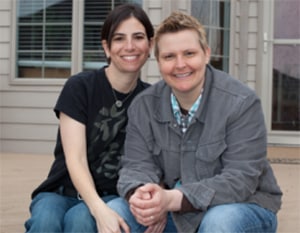 The U.S. Seventh Circuit Court of Appeals ruled that the state of Indiana must recognize the marriage of a terminally ill lesbian, Niki Quasney, while the state appeals District Judge Richard L. Young's earlier ruling that found Indiana's ban on same-sex marriage to be unconstitutional. Nicki, who is married to wife Amy Sandler, is currently battling stage IV ovarian cancer. Lambda legal filed the emergency motion that resulted in the seventh circuit lifting its earlier stay of Judge Young's decision: 
Paul D. Castillo, Staff Attorney for Lambda Legal, said:
It is time for the State of Indiana to leave Niki and Amy in peace and not subject them and their marriage to any more stress and uncertainty as this case proceeds. We're thrilled that the court ruled in favor of this family as Niki battles stage four ovarian cancer. We will continue to fight until no family in Indiana needs to worry about their marriage being stripped away from them and all Hoosiers have the freedom to marry.
In response to the emergency motion filed by Lambda Legal on behalf of Niki and Amy, the 7th Circuit also set an expedited briefing schedule in Baskin v. Bogan, with all briefs in the case due by August 5. Arguments in the case could come as early as the end of the summer. 
Read the court order, AFTER THE JUMP…