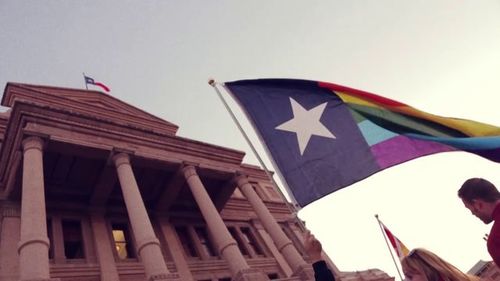 A new study released Wednesday from the Williams Institute at the UCLA School of Law found that Texas could make $180 million if it granted same-sex couples the right to marry. KENS-5 San Antonio reports that part of the boon that could hit the Lone Star State would be attributed to an influx of couples from neighboring states where same-sex marriage is illegal:
The study predicts that more than 23,000 same-sex couples in Texas would marry within three years if the state allowed them to. The legalization of gay marriage would mean a surge in gay weddings, the study estimates, creating a nearly $15 million boost to sales tax revenue over three years. The economic impact would likely be greater if Texas extended marriage rights to gay couples ahead of neighboring states like Louisiana and Oklahoma, because the state could become a wedding destination for same-sex couples, said Christy Mallory, one of the study's authors. But chances are slim that conservative Texas lawmakers would allow same-sex marriage unless the courts force states to do so.
The Williams Institute previously found that Utah could add over $15 million to its economy by legalizing same-sex marriage. Other studies have looked at the cost of anti-gay laws and homophobia, including one recent study that estimated homophobia costs India $31 billion annually.
Still, some conservatives in Texas argue against the logic from the UCLA study:
Jonathan Saenz, executive director of the socially conservative group Texas Values, said the study used a model that wouldn't apply to Texas.
"For 10 straight years, Texas has been ranked as the top state for business. It's no surprise that Texas has also defined marriage as between one man and one woman in its constitution during these same 10 years, since 2005," Saenz said. "California, a state that performs homosexual marriages, is ranked as one of the five worst states for business in 2014. Case closed."
Mallory, however, cautioned against this reading of the statistics, saying,
"[business rankings' take into account a variety of factors that contribute to the state's overall economy, and do not negate our findings that marriage would boost spending in the wedding and tourism industries."
Regardless of the case for equality, the likelihood of Texas voluntarily legalizing same-sex marriage is unfortunately bleak. Just this year, the state's Republican party (which has essentially had a monopoly on all elected statewide offices for the past twenty years) decided the best way to mitigate anti-gay language enshrined in the state party's platform was to endorse gay conversion therapy.
Still, gay marriage may yet come to Texas despite Republican opposition. A recent poll showed that a majority of Texans support marriage equality and three judges have found that Texas' ban on same-sex marriage (passed in 2005) to be unconstitutional.