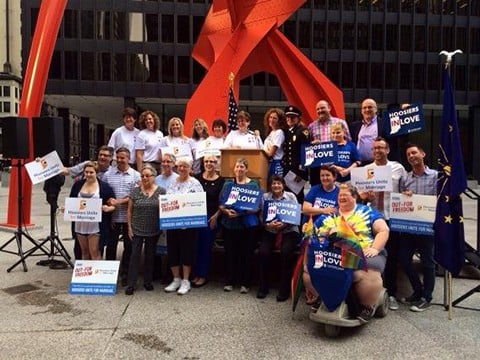 The 7th Circuit Court of Appeals today heard oral arguments in two cases that challenged the constitutionality of same-sex marriage bans in Indiana and Wisconsin, respectively. As the AP reports, the three judge panel composed of Judges Richard Posner, Anne Claire Williams and David Hamilton, were critical of arguments that sought to justify the bans. Judge Posner, the sole Republican appointed judge among the three member panel, was perhaps the most critical of the states defending their anti-equality laws, objecting in particular to arguments that relied on "tradition":
"It was tradition to not allow blacks and whites to marry — a tradition that got swept away," Posner said. Prohibition of same sex marriage, he said, is "a tradition of hate … and savage discrimination."
Posner frequently cut off Indiana Solicitor General Thomas Fischer, just moments into his presentation and chided him to answer his questions.
At one point, Posner ran through a list of psychological strains of unmarried same-sex couples, including having to struggle to grasp why their schoolmates' parents were married and theirs weren't.
"What horrible stuff," Posner said. What benefits to society in barring gay marriage, he asked, "outweighs that kind of damage to children?"
There was [also] some levity during the hearing. As Samuelson struggled to offer a specific reason for how gay marriage bans benefit society, he suddenly noted a yellow courtroom light signaling his allotted time was up.
"It won't save you," [Judge Ann Claire] Williams told him, prompting laughter in court.
Samuleson smiled, and said: "it was worth a try."
The last anecdote indicates somewhat dramatically just how much the court may be inclined to disagree with the state's arguments and find for the plaintiffs. 
Listen to oral arguments in both the Indiana (Baskin v. Zoeller) and Wisconsin case (Wolf v. Walker), AFTER THE JUMP…
(photo via Twitter)