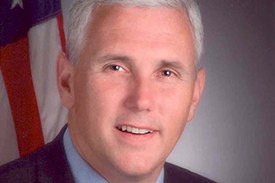 On Tuesday, a federal judge ruled that Indiana must recognize same-sex marriages performed out of state, nullifying a provision of the state's ban on same-sex marriage that forbade gay couples wed elsewhere from being recognized as married in the Hoosier state. The AP reports:
U.S. District Judge Richard Young decided Indiana must recognize the marriage of Michelle and Shannon Bowling of Indianapolis, who were married in Polk County, Iowa, on Jan. 18, 2011. Shannon Bowling is employed by the Indiana Department of Correction, and couple sued to seek state benefits for Michelle Bowling and her children from a previous relationship.
Judge Young also issued a ruling in June that struck down Indiana's same-sex marriage ban in broader terms. Though weddings quickly ensued following his decision, the 7th Circuit Court of Appeals intervened and stayed Young's decision. Young's latest decision on same-sex marriages performed out of state is also stayed until the 7th Circuit has a chance to review. 
Read Judge Young's latest order, AFTER THE JUMP…
Bowling v. Pence District Court ruling by JohnMBecker