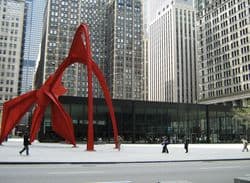 Midwestern same-sex couples, LGBT supporters, and faith leaders will rally in the Chicago Federal Plaza this afternoon on the eve of marriage cases before the Seventh Circuit Court of Appeals tomorrow. Illinois state Rep. Greg Harris, author of the new Illinois marriage equality law, will kick off the rally and welcome the plaintiffs in the cases which center on marriage bans in Indiana and Wisconsin. The three-judge panel will be announced in the morning. 
For more information on the rally, head HERE.
Last month, the Seventh Circuit ruled that the state of Indiana must recognize the marriage of a terminally ill lesbian. 
[photo via Flickr]