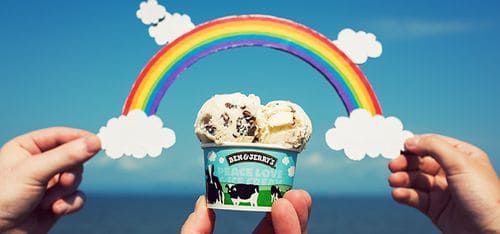 Declaring that "love comes in all flavors," Ben and Jerry's posted a letter on its website Friday explaining why it had signed onto an amicus brief to the Supreme Court supporting marriage equality.
"Often, it's not enough to change the way you do business, or change the practice within your business," says Chris Miller, Ben & Jerry's Social Mission Activism Manager. "Unless you're willing to stand up and advocate for the rights of others, not just here in our backyard but around the world, it's often just not good enough." […]
"This is not just a concern of the gay rights community," says Miller. "There is a broad base of support for a single standard across all 50 states that recognize same sex marriage."
We're proud to have signed onto an "Employers' Amicus Brief." That's fancy lawyer speak for a formal legal petition asking the Supreme Court to review these latest circuit court rulings, and make a ruling that state governments may not act to hinder a business from treating all of its legally married employees in the same way. We've signed on with 30 other global and local companies who are fed up with a state-level ban on allowing a legally binding marriage, and all the benefits that go with it.
The ice cream maker has long been a supporter of LGBT equality, periodically releasing marriage equality-themed flavors such as "Apple-y Ever After" and "Chubby Hubbies"
You can visit Ben and Jerry's website HERE to read the full letter. And head over to The New Civil Rights Movement HERE to check out the full list of Employer's Amicus Brief signatories.