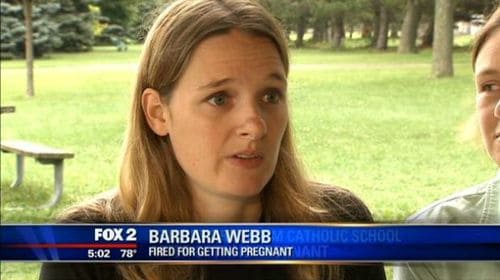 Administrators at a Detroit-area Catholic high school have announced they will review policies and procedures following the controversial firing of a gay teacher who claimed she was sacked last month because of her pregnancy, The Detroit News reports:
Mary Jane Herb, president of the Monroe-based Sisters, Servants of the Immaculate Heart of Mary, in a letter to supporters this week referred to "the recent employment matter" and "a complexity of issues" facing the Catholic church and its schools. She did not specifically name Barbara Webb, the teacher who was terminated last month from the private, all-girls Bloomfield Hills school.
"Consequently, we need to have ongoing education and a new lens through which to view issues and situations that are emerging," Herb wrote in the letter dated Monday. "Pope Francis has brought a sense of hope to our lives and encourages us to look at our Church with new eyes. No, it is not likely that doctrine will change, however the Pope emphasizes that the values of mercy, inclusion and compassion need to be included in our response to complex situations."
Earlier this month, Webb revealed that her termination letter didn't give any reasons for the firing, but that previous conversations with school officials pointed to her violating a morality clause allowing for firing over public conduct of "lifestyle or action directly contradictory to the Catholic faith."
The Detroit News adds that a change.org petition asking the high school to end its discriminatory anti-LGBT policies has gathered nearly 70,000 signatures.