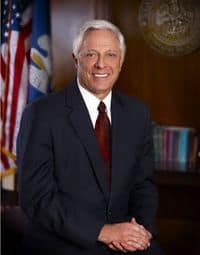 A ruling earlier this week declaring Louisiana's gay marriage ban unconstitutional has been stayed following a request by Attorney General Buddy Caldwell [pictured], The Times-Picayune reports:
Caldwell's office filed a motion for suspensive appeal Thursday afternoon, which stays Rubin's judgement pending appeal to the Louisiana Supreme Court, according to Caldwell spokesperson Laura Gerdes.
Gerdes said at this time, same-sex marriage is still not permitted, nor are out-of-state same-sex marriages recognized in Louisiana.
In a separate ruling earlier this month, a federal judge upheld the state's gay marriage ban, suggesting that being gay is a "lifestyle choice" that is at odds with the democratic process.