The Seventh Circuit Court of Appeals has put a stay on its ruling earlier this month overturning Wisconsin's gay marriage ban until the Supreme Court weighs in on the matter, the Milwaukee Journal Sentinel reports: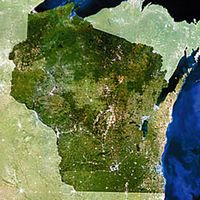 The 7th Circuit U.S. Court of Appeals blocked its own order in the Wisconsin case two days after it blocked its order in a similar case out of Indiana. Those moves by the 7th Circuit were widely expected because of an earlier ruling by the Supreme Court that showed a majority of justices want the marriage bans around the country to remain in place while they consider whether to hear one of the lawsuits against those bans.
Last week, state Attorney General J.B. Van Hollen asked the U.S. Supreme Court to restore Wisconsin's gay marriage ban, arguing that the case that began in Madison offers the justices the best vehicle for resolving the historic question of whether bans on same-sex unions violate the U.S. Constitution.
The 7th Circuit said Wednesday that it would let that Supreme Court appeal play out.
"The stay will terminate automatically if the certiorari petition (to the Supreme Court) is denied or will terminate upon the judgment of the Supreme Court if the certiorari petition is granted," the 7th Circuit's one-page order reads.
Last week, plaintiffs in the Indiana and Wisconsin gay marriage cases urged the Supreme Court to review challenges to their states' gay marriage bans.
The court has announced it will consider those petitions in a private meeting September 29.