As expected, the Seventh Circuit Court of Appeals has ruled 3-0 for the equality side, writing that the governments of Indiana and Wisconsin have given "no reason to think they have a 'reasonable basis' for forbidding same-sex marriage" 
Read the summary and final judgement below.
The Washington Blade reports:
Writing for the majority, U.S. Circuit Judge Richard Posner affirmed lower court decisions that determined state laws barring same-sex couples from marriage violate the Fourteenth Amendment to the U.S. Constitution.
"Our pair of cases is rich in detail but ultimately straightforward to decide," Posner writes. "The challenged laws discriminate against a minority defined by an immutable characteristic, and the only rationale that the states put forth with any conviction — that same-sex couples and their children don't need marriage because same-sex couples can't produce children, intended or unintended — is so full of holes that it cannot be taken seriously. 
Saidopenly gay Senator Tammy Baldwin (D-WI) via press release: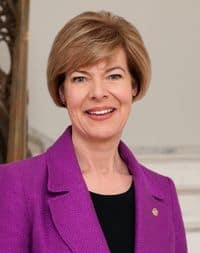 "Today's decision is yet another affirmation that discrimination doesn't just violate our Wisconsin values – it violates our Constitution and marriage equality will be the law of the land in our state. It is simply wrong for Governor Walker and Attorney General Van Hollen to continue to defend discrimination and with the unanimous rejection of their position by another federal court, it is long past time for them to stop standing in the way of freedom, fairness and equality for all Wisconsinites. Love is love, family is family, and discriminating against anyone's love, against anyone's family, is not only wrong, it is unconstitutional.  It is now time for us to keep our promise to pass on to the next generation a Wisconsin that is more equal, not less equal."
We'll have analysis from our legal editor Ari Ezra Waldman coming up shortly…stay tuned.
Previously, "7 Moments That Will Make You Want to Gay Marry Judge Richard Posner" [tlrd]