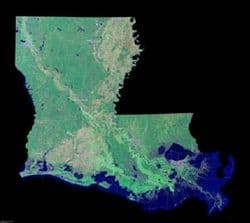 A judge in Louisiana has just ruled that the state's ban on gay marriage is unconstitutional.
KLFY reports that Judge Edward Rubin found the ban unconstitutional in three areas:
1. Due process clause of the 14th amendment
2. Equal protection clause of 14th amendment
3. Full faith and credit clause of the constitution
Freedom to Marry adds that the plaintiffs, Lafayette residents Angela Marie Costanza and Chastity Shanelle Brewer, filed a lawsuit seeking to have their California marriage recognized by the state of Louisiana. Back in February, Judge Rubin declared that the couple had the freedom to legally adopt their son. 
The case at hand is an adoption proceeding, so the opinion is currently sealed, and will reportedly be made public in the morning. We'll have more details as soon as we get them.
In a ruling in a separate case in early September, a federal judge upheld the state's gay marriage ban, suggesting that being gay is a "lifestyle choice" that is at odds with the democratic process.
Developing…