At a speech before Alabama Gov. Robert Bentley and other state officials today, Apple CEO Tim Cook said the state needed to better address LGBT rights, the Montgomery Advertiser reports: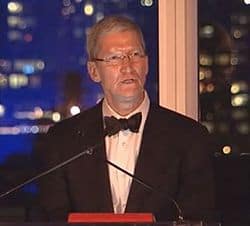 Cook, a native of Robertsdale and Auburn graduate, told fellow members of the Alabama Academy of Honor that the civil rights struggle in the state shaped his life, and said equal access to education and protections for LBGT employees were critical to achieving "equality in truth."
"As a state, we took too long to take steps toward equality," Cook, one of this year's inductees into the Academy, said to a crowd gathered in the Old House Chamber at the Alabama State Capitol. "We were too slow on equality on African-Americans. We were too slow on interracial marriage. And we are still too slow on equality for the LBGT community."
Back in December, Cook received Auburn University's Lifetime Achievement Award and used his speech to call for an end to anti-LGBT discrimination. 
Alabama remains one of the 18 states without marriage equality.