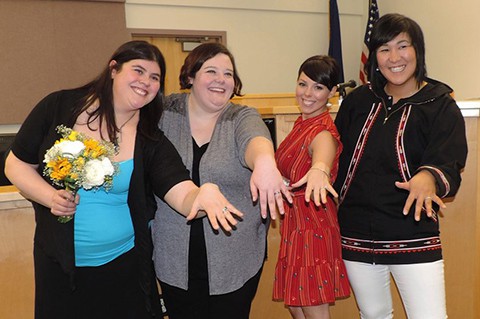 After a federal judge's ruling overturned Alaska's voter-approved ban on same-sex marriage (passed in 1998), same-sex Alaskan couples  yesterday began seeking marriage licenses. Some had already been married out of state and wanted recognition in their home state as well. Most couples were forced to adhere to a 3 day waiting period imposed on couples in Alaska who wish to seek marriage licenses. However, at least two same-sex couples in Alaska were able to avoid the waiting period and got married on the spot. Alaska Dispatch News reports:
It appears that at least two same-sex couples have been married in Barrow, according to Kristine Hilderbrand, who said state Magistrate Mary Treiber waived the three-day waiting period required after issuing of marriage licenses. Hilderbrand said she married Sarah Ellis at about 4 p.m. Monday. The two are likely the first same-sex couples to be married in Alaska. Department of Heath and Social Services spokesman Jason Grenn said the state was still reviewing the legality of the marriages.
Meanwhile, the state continues its plans for defending the ban:
The state of Alaska filed an emergency motion for a stay on a Sunday ruling overturning Alaska's ban on same-sex marriage, pending final appeal in the 9th U.S. Circuit Court of Appeals Monday afternoon. The state argues that since the 9th Circuit could potentially hear the case "en banc" — before a larger panel of judges than the three who decided the Nevada and Idaho cases last week — and that there is a "reasonable likelihood" that a circuit split will develop in the near future, the court should issue the stay in order to "avoid chaos" in the administration of Alaska's marriage laws. Until a judge rules on the motion, marriages in Alaska will be allowed to proceed.
Watch a news report on the sweeping changes hitting Alaska and the debate still raging on, AFTER THE JUMP…
[Photo via Alaska Dispatch News]