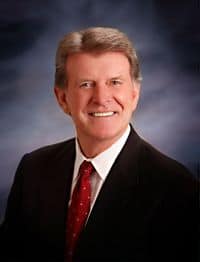 Gubernatorial candidates in Idaho traded barbs over gay marriage and LGBT-inclusive discrimination protections during yesterday's debate – with Governor Butch Otter pledging to continue defending his state's 2006 voter approved amendment to the Idaho Constitution banning gay marriage.
Said Otter:
"In 2006, Idaho looked at it and said we are going to change our constitution. And they asked the people of Idaho and go to the polls and vote for a constitutional amendment, Article Three, Section Twenty-eight of the state constitution, to define legal marriage in Idaho, as a union between one man and one woman. And from that all of the detractors, and probably including the author of that question, that all of a sudden Idaho is anti-gay. That we are anti-something. We are not. Idaho is pro traditional marriage. And I am not going to do anything to put that in danger."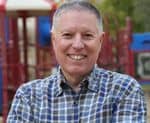 Otter's Democratic challenger, A.J. Balukoff, criticized that position, saying the amendment was discriminatory:
"No matter how many of our citizens vote to pass the law, we cannot pass a law that violates the United States Constitution. This is about discrimination, treating all people with fairness and respect. Regardless of what our personal beliefs may be, we still need to treat them equally."
Libertarian candidate John Bujak, meanwhile, appeared to take the middle ground on the issue – saying that while he's personally opposed to gay marriage he recognizes those types of views don't hold up in court.
Watch a video of the gay marriage portion of the debate, AFTER THE JUMP…(warning: autoplay)
Boise Weekly adds:
Balukoff and Otter also widened their differences on the debate over Add the Words, the effort to add the words "gender identity" and "sexual orientation" to the Idaho Human Rights Act.
"The governor and the Idaho legislature represent ALL the people of Idaho," said Balukoff. "To stonewall this issue for eight years is not acceptable. We should grant a legislative hearing and strengthen the human rights act to add the four words."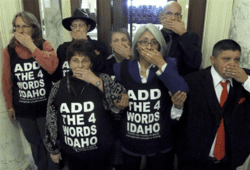 Otter said he had met with Add the Words organizers on two occasions during the 2014 legislative session and had expected a legislative hearing to surface.
"That is, until their antics started up," said Otter, referring to the multiple arrests of Add the Words advocates at the Statehouse. "I can understand the angst of the legislature and their reluctance to take up the issue."
Otter said a hearing on the matter is expected during the next legislative session.
On Tuesday, the 9th Circuit upheld a ruling striking down Idaho's gay marriage ban. The U.S. Supreme Court temporarily stayed the Idaho ruling, however.