Following the 9th Circuit's decision striking down Idaho's constitutional amendment banning same sex marriage, Idaho state Senator Steve Vick (R) is proposing a solution to what he sees is a gross governmental overreach, Right Wing Watch reports.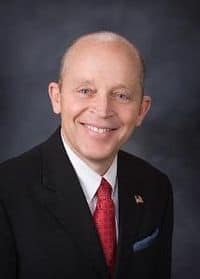 "If we're not allowed to determine the standards for a marriage license, then maybe we should just not issue them."  he explained to WorldNetDaily. "Another potential avenue that I'm exploring is just eliminating marriage licenses in Idaho."
Vick went on to elaborate on his relatively extreme proposition, saying while he was only in the early stages of discussing it, he had found much interest at a number of local town halls.
Though Idaho Governor Butch Otter announced that he will comply with the 9th Circuit's ruling earlier this month, he has made a point of stating that his office remains dedicated to the idea of traditional marriage. He has also filed a petitionn for the full 9th Circuit to re-hear the case challenging the state's gay marriage ban. 
"I continue to believe that the federal courts are mistaken in abandoning the sanctity of traditional marriage and in undermining the will of Idaho voters and each state's right to define marriage," he said in a statement. "We have done all we can through the courts for now to defend traditional marriage in Idaho."
Sen. Vick echoed the Governor's sentiment, but admitted that "these rulings will probably stand," referring to the court's refusal to hear appeals from other states in which judges dismissed constitutional amendment banning same-sex unions.
Listen to a clip of Idaho state senator Steve Vick's interview with WorldNetDaily AFTER THE JUMP…