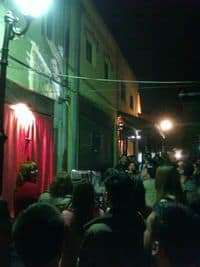 Members of the LGBT Association of Macedonia were ambushed by 30 masked attackers while celebrating their organizations second anniversary last week. According to police reports, the attackers threw rocks, bottles, and other debris at the queer activists in the Damar cafe located in the Old Bazaar quarter of the country's capital Skopje.
Uranija Pirovska, head of the Macedonian branch of the Helsinki Committee for Human Rights, said that this was the country's sixth, anti-gay organized attack in two years. Initial reports of the attack described it as an act of random violence, a characterization that the HCHR claims is the local media's effort to downplay the hate crime.
"We ask the Government of the Republic of Macedonia and the competent institutions how long will they continue to underrate the violence which is a part of the every-day life of the LGBT people?" the HCHR wrote in a statement. "How long will we continue to pretend that these people do not exist, that they do not face real threats to their life and body every day and that there is no need of special legal protection and legal treatment for them?"
Macedonian president Gjorge Ivanov has insisted that LGBT discrimination and intolerance does not exist within Macedonia, despite the uptick in queer-targeted violence. Earlier this year conservative members of Macedonia's VMRO-DPMNE party expressed their interest in introducing legislation that would ban same-sex marriage throughout the country, despite failed attempts at similar legislation in the past.
[photo via foursquare]