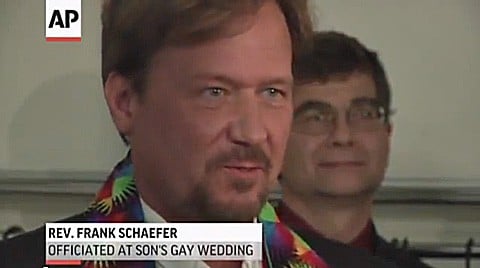 When we last reported on Methodist pastor Frank Schaefer back in June, Schaefer – who was defrocked last year for officiating at his son Tim's wedding to another man in 2007 – had been reinstated by an appeals panel.
That decision, however, was appealed to the Judicial Council, the church's highest court, which has announced it will hear oral arguments in the case October 22, the Associated Press reports:
The Rev. Christopher Fisher, who served as the church's prosecutor at Schaefer's trial, then appealed to the high court.
The Judicial Council has the final word on the matter. No decision is expected until several days after the council adjourns on Oct. 25.
Back in June after Schaefer was reinstated by the appeals panel, he wrote on his website:
"I can't even begin to describe how meaningful this "refrocking" is to me. I never did understand the severity of my punishment for an act of love for my son Tim. The committee of appeals understood that my defrocking sought to penalize me not for what I did but for what I might do in the future."