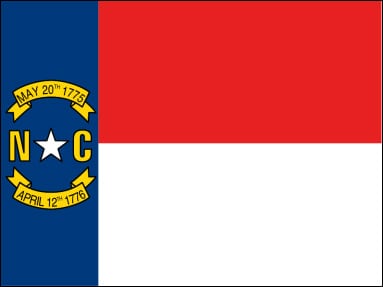 Following the Supreme Court's refusal to hear an appeal of the 4th Circuit's pro-equality ruling in Virginia's gay marriage case this morning, advocates in North Carolina are set to ask a federal judge to quickly strike down the state's ban, the Associated Press reports:
American Civil Liberties Union of North Carolina legal director Chris Brook said the group will file a request Monday seeking an immediate ruling from Chief U.S. District Judge William L. Osteen, Jr., in Greensboro overturning the state's ban as unconstitutional.
The ACLU of North Carolina writes on the current cases working their way through the state:
The ACLU and ACLU of North Carolina Legal Foundation have filed two federal lawsuits challenging North Carolina's ban on marriage for same-sex couples, both in the U.S. District Court for the Middle District of North Carolina in Greensboro. The first, Fisher-Borne, et al., v. Smith, was filed in July 2013 as an amended complaint to a 2012 lawsuit challenging North Carolina's ban on second parent adoptions on behalf of six families across the state headed by same-sex couples. On April 9, 2014, the ACLU filed a second federal lawsuit, Gerber and Berlin, et al., v. Cooper, on behalf of three married, same-sex couples seeking state recognition of their marriages. Because of the serious medical condition of one member of each couple, the Gerber plaintiffs are asking the court to take swift action.
Developing…