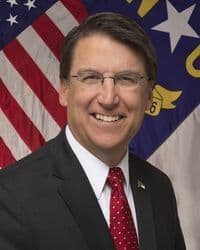 North Carolina Governor Pat McCrory (R) has stated that he fully supports gays' rights to marry following U.S. District Court Judge Mac Cogburn Jr.'s decision that overturned the state's same sex marriage ban. Speaking to the Carolina Connection, the Governor admitted that while accepting gay marriage would require a fair amount of cultural evolution for North Carolina, his job as a public official was to uphold the court's ruling.
"I think it's a time for healing on all sides," he said. "Now that the disagreement has been resolved in the courts, it's our job to live together and work together and play together and respect each other together."
McCrory's election to the governor's seat in 2012 marked the first time that the Republican party controlled both North Carolina's senate and its general assembly since 1870. His tenure in office thus far has been marked by a number of classically conservative initiatives such as cutting unemployment benefits, opting out of Obamacare, and repealing the state's Racial Justice Act. Most recently McCrory made headlines after the US Attorney's Office launched an investigation into his administration's potential involvement in settling environmental lawsuits on behalf Duke Energy.