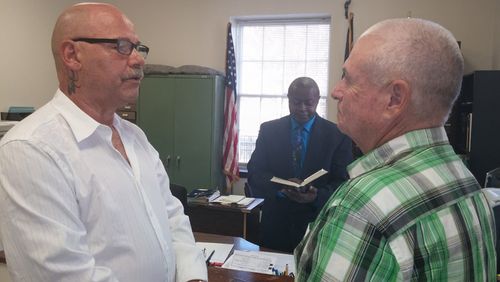 On Monday, Randy Jackson and Eddie Locklear of Elizabeth City, North Carolina attempted to make their partnership official after thirty-one years. The state's same-sex marriage ban, Amendment One, had been struck down and their request should have been respected. However, once at the courthouse they were turned away by a magistrate who claimed he could (or would) not marry them based on his religious beliefs. It was a disheartening turn of events, to be sure, and one that will likely have to be negotiated a great deal in certain states. Jackson and Locklear's story, at least, has a happy ending.
The Virginian Pilot reports:
Today, the couple finally tied the knot at the Pasquotank County courthouse.
A different magistrate, Lee Custis, presided over their civil wedding today, saying he was religious, but he had to follow the law.
He improvised slightly when he asked them if they would take each other's hand in marriage.
"Do you take this man to be your partner?" Custis asked.
After the short ceremony, both men were left emotional and amazed.
"It's been a long time coming," Jackson said. "It's hard to put it in words. I didn't think I'd live to see this."
Congratulations to Randy and Eddie!
In related news, Joe Jervis over at Joe. My. God. has called out the Virginian Pilot on a shoddy poll asking, "Should magistrates be allowed to refuse to perform same-sex marriages based on religious grounds?" The poll, according to Joe, was up, then deleted, then back again with the "no" votes erased; the current standings are 94% yes, 6% no, and the paper tweeted at Joe saying that "All votes were deleted" when the poll malfunctioned. Poorly designed polling system, or a purposeful skew of data? What do you think?
Photo credit: Jeff Hampton of The Virginian Pilot.