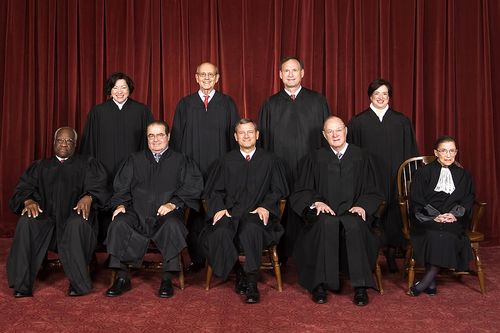 Today we received word that the Supreme Court denied review of all seven marriage equality that were pending before it. These cases came out of the Fourth, Seventh, and Tenth Circuits. This means that the Supreme Court has made its move, the appellate courts' pro-equality decisions will stand, the stays will be lifted (shortly), and marriages can begin shortly thereafter. 
Consider the magnitude of this win.
The Fourth Circuit includes Maryland, West Virginia, Virginia, North Carolina, and South Carolina. The Seventh Circuit includes Indiana, Illinois, and Wisconsin. The Tenth Circuit covers Oklahoma, Kansas, New Mexico, Colorado, Wyoming, and Utah. Those jurisdictions cover nearly 74 million people. Taking away those states that already have marriage equality–Maryland, Illinois, and New Mexico–and we will soon have more than 52 million more Americans living in marriage equality states.
It also will ultimately bring 11 more states to the marriage equality fold. That will likely happen in two stages. First, the five states that were defendants in the cases the Supreme Court just denied will almost immediately have to allow gay couples to marry. Then, because the appellate court decisions cover the other states, as well, all the remaining the states will have to do the same in short order. This brings our marriage equality tally to 30 states plus the District of Columbia. Three-fifths of the states will now be marriage equality states just like that!
In addition to the very real, practical effect of allowing tens of thousands of gay couples to marry, the surprising denial may mean several other things:
First, the Supreme Court is making a strong, though of course not definitive statement, about where it is heading. To deny all seven cases and let the pro-equality appellate court decisions stand speaks to the court's willingness to see marriage equality come to more states. If a majority was opposed to that, at least four justices would have voted to take the case to try to prevent that from happening.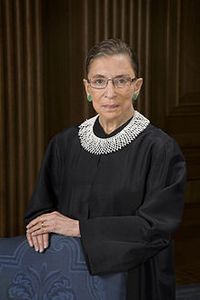 Second, taking today's actions together with Justice Ginsburg's recent statements that the Supreme Court will take a marriage equality case "soon" and to look to the Sixth Circuit, it seems as if the Court is respecting the traditional canon of not taking a case before it has to. We have, to date, run the table on marriage equality in the federal appellate courts, so there is no circuit split (an old Eighth Circuit case from before Windsor does not count). 
Third, if I wanted to be a little cheeky, I would say the Court is almost daring the conservatives on the Sixth Circuit to uphold the ban on gays marrying. "We dare you to send us a bigoted decision saying gays cannot marry. We just allowed 11 more states to let gays marry. Marriage equality is almost literally surrounding the Sixth Circuit. We dare you! Watch how fast we reject you."
So, what happens now?
Because the Supreme Court has denied review in all marriage equality cases, those cases are over. The appellate court decisions, which upheld district court decisions holding marriage discrimination provisions unconstitutional, stand. Since the cases are over and since the Supreme Court's denial of review is final word on the matter, the stays, whether issued by appellate courts or district courts, will end shortly. Within a few days, gay couples should be allowed to marry in Wisconsin, Indiana, Virginia, Utah, and Oklahoma. For marriage equality to come to the other states under the jurisdiction of the Fourth, Seventh, and Tenth Circuits, an additional step may be needed. Attorneys general or governors in those states could immediately declare that per the Supreme Court's denial and the impending order from the appellate courts, those states' bans are null and void, and that clerks should start issuing marriage licenses as soon as possible. Normally, courts will give states a short leeway time to make the necessary administrative changes to comply. 
Sure, a governor or attorney general could try to nullify the courts' orders, standing in the proverbial schoolhouse door like an anti-gay version of the racist Governor George Wallace. But if a gay couple in, say, South Carolina, goes to a clerk's office and seeks a marriage license in accordance with all other South Carolina marriage law requirements, any clerk's refusal to issue a license on the ground that the individuals are gay would be subject to a lawsuit that would immediately be decided in the couple's favor.
Expect some rhetorical protests, especially from the more recalcitrant and conservative Republican governors, but do not expect their defiant behavior to last very long.
***
Follow me on Twitter and on Facebook. Check out my website at www.ariewaldman.com.
Ari Ezra Waldman is a professor of law and the Director of the Institute for Information Law and Policy at New York Law School and is concurrently pursuing his PhD at Columbia University in New York City. He is a 2002 graduate of Harvard College and a 2005 graduate of Harvard Law School. Ari writes weekly posts on law and various LGBT issues.