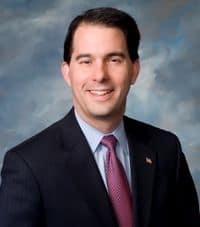 Current Wisconsin Governor and potential 2016 presidential candidate Scott Walker (R) has been careful to avoid publicly expressing his official views on hot button issues like abortion and gay marriage. In the face of the looming November 4th election date however, Walker has begun to more aggressively court Wisconsin's conservative vote. In an attempt to secure endorsement from Wisconsin Family Action, a conservative 501c(4) organization, Walker opened up about his stance on same sex marriage and a woman's right to choose.
"I would hope that my record and the stark contrast with my opponent's positions would garner your support," the governor implored, asserting his belief that marriage could only be defined as a union between a man and a woman.
Before becoming governor Walker openly endorsed a proposal for a same sex marriage ban within Wisconsin. More recently he's dodged direct questions about his opinions on marriage equality given steadily shifting poll numbers indicating the public's broadening acceptance.
"He hasn't been straight with people," said Mary Burke, Burke's primary democratic competition. "He does owe it to the people of Wisconsin to be clear on these issues."
Walker reaffirmed his opposition to abortion, even in cases of rape or incest, pointing to his decisions to cut funding, access, and support to abortion providers throughout the state. Last year Walker stealthily signed a bill into law that required women seeking abortions to undergo medically unnecessary ultrasounds. The bill also drastically reduced the number of centers allowed to perform abortions by banning doctors without broader admitting privileges from performing the procedure.
"This bill improves a woman's ability to make an informed choice that will protect her physical and mental health now and in the future," Walker said of the bill, which he pointedly elected to sign in private.