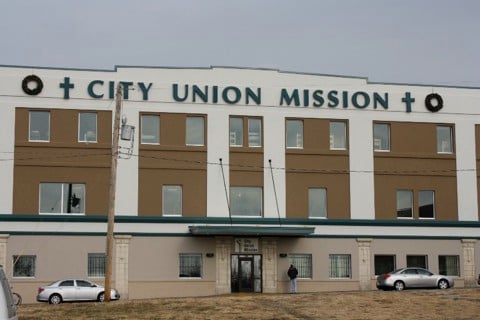 A Kansas City homeless shelter says it won't house same-sex couples together even if they're legally married in the state of Missouri.
The 90-year-old City Union Mission, in the heart of downtown Kansas City, provides shelter to up to 550 people every night, including families and children.
Dan Doty, City Union Mission's executive director, told The Kansas City Star that the shelter's board has had discussions about housing same-sex couples together over the years but has decided to "stay true to our biblical convictions."
"I knew this day would come, especially when the media would begin asking that question," Doty said, deeply concerned about what effect the nonprofit's decision could have on its broad community support and donations. "I truly hope you understand the can of worms this could open.

"…We are a Christian, faith-based organization that really does adhere to biblical standards. Our view is that it (same-sex marriage) is inappropriate. Our intent is not to shelter same-sex couples together."
The article explains that because City Union Mission is a religiously affiliated organization that receives no government funding, it is not bound by nondiscrimination laws. Doty said City Union Mission will house gays and lesbians individually, but requires transgender people to dress according to their birth sex when they're in the facility.
Same-sex couples who want to be housed together will be referred to other facilities. Representatives from local Salvation Army and Catholic Charities shelters told The Star they will house married same-sex couples together, while another shelter in Topeka said it's still undecided on the issue.
In related news, KSHB Channel 4 reported last week that City Union Mission is facing a $300,000 budget shortfall and is banking on a generous holiday giving season to make up for the deficit. 
But after Sunday's story in The Star about City Union Mission's decision not to house same-sex couples together, the shelter probably shouldn't count on getting much help from the LGBT community or its supporters. 
"So, you discriminate against gays now," Chris Jozwiak wrote on the shelter's
Facebook page
. "Sounds fine. You'll be doing so without support of my friends and family moving forward. And I'll make sure and pass on the news as often and loudly as possible so others join me. Jesus didn't stop and question people about who they loved before he helped them. You're apparently not worthy."